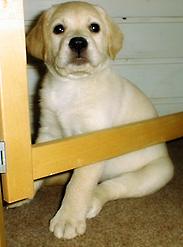 I was born in 23rd of April, 2000. My formal name is Adventurer's Keep a Distance, but my real name is Diesel. I live in Helsinki, Finland with my mom Laura. (By the way, she has a website too - I think she might get offended if I didn't mention it.. ) I don't think there's any doubt who's the cutest though!
Mom came to visit me when I was only 4 weeks old. Gee, I don't really remember anything about that but I always try to act like I knew what she's talking about when she mentions that, I think that makes her happy.. People can be soooo weird. Anyway, she took some pictures of me and my siblings and my doggy mom too!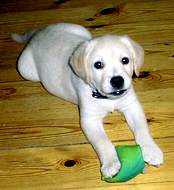 I can see everyone has a website and so does my breeder, Jaana Railamaa; I'm a genuine Adventurer too! And hey, you can see another picture of my doggy mom, Inkeri (Adventurer's Fingers Crossed) there as well. Funniest thing though.. mom's middle name is Inkeri too. It must be a sign, don't you think?
I'm clicker training mom. She's learning pretty fast; sometimes I only have to turn my head and she'll click and treat.. Now, I'm still working to get her to click/treat basically every second, even when I sleep. That would be cool, but I don't know how much humans can learn.
Oh, by the way, feel free to send me mail if you wish. Mom's a bit funny about the computer, but I promise to sneak over and read my mail when she's not watching. I love the computer, especially the wires I find extremely fascinating.