Laura:
You probably already knew that there are three Labrador colours; yellow, black and chocolate.
But you probably didn't know there's also a fourth colour called "blue". Now, for the inexperienced, untrained eye it may look like "dirt" colour.
But this subtle colour variation is actually very sophisticated and delicate and extremely popular among Lab owners.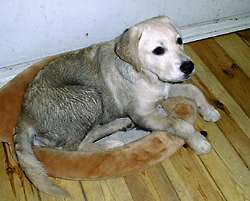 Oh.. By the way:
*FOR SALE*: beautiful, calm, "blue" Labrador female puppy! Does not chew anything, very obedient! CHEAP! Contact immediately!